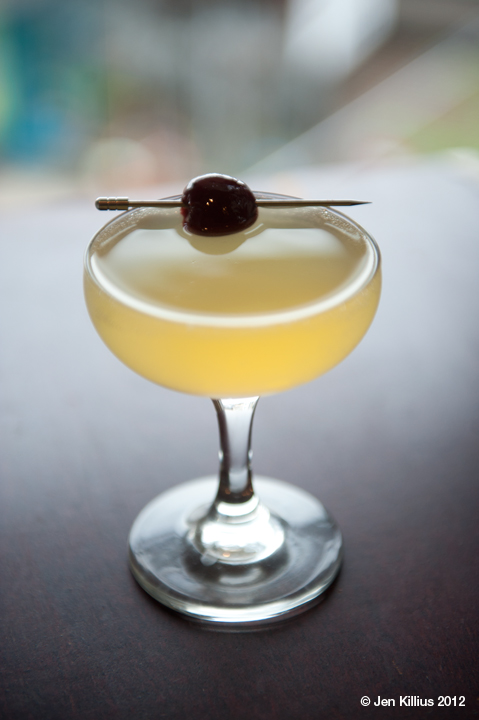 High Road to Saffron
1.5 oz Cazadores Blanco tequila
0.5 oz Milagro Reposado tequila
1 oz mango lime shrub (see below)
1 oz Strega
0.5 oz seltzer water
2 dashes lime bitters
Shake ingredients well over ice, strain into a coupe. Garnish with a maraschino cherry.
NOTES: I'm a little sad I didn't make this last week for Cinco de Mayo, because it would have been absolutely perfect. This is one of my favorite shrubs so far, and the whole thing was tart, sweet and really refreshing while still having the balls of a good tequila drink. Strega spiced the whole thing up nicely, and the little bit of reposado gave it a nice character without the guilt of drowning a great sipping tequila in other stuff. Might have found the first candidate for the next party.
Mango Lime Shrub
2 ripe mangoes
2 limes
2 cups apple cider vinegar
1 cup white sugar
Peel, pit and dice the mango and transfer the good stuff to a jar. Discard the peel and pit. Zest both limes, being careful to take ONLY the zest and none of the white pith. This is one of those times that paying for a zester really comes in handy. A peeler can work, but you have to have the steadiest hand in the world, or spend 20 minutes scraping pith off the back of your peels. If you end up with much pith at all, it's going to give everything a bitter flavor. Transfer all the zest from the 2 limes into the jar, and then juice both limes in as well. Add 2 cups of vinegar, seal and shake well. Let it sit for 5 days, shaking every day.
On the fifth day, strain well (the mango will get soft and pulpy, so straining multiple times through cheese cloth might be necessary), and bring the liquid to a boil. Add sugar, and allow to simmer for 5-10 minutes to thicken. Allow to cool, transfer to a clean bottle, and refrigerate.
NOTES: We agreed that this shrub was outstanding, and basically wanted to drink it by itself. Mango and lime go together way better than we could have hoped. If you're looking for a nice summer shrub to play around with, this is the one.