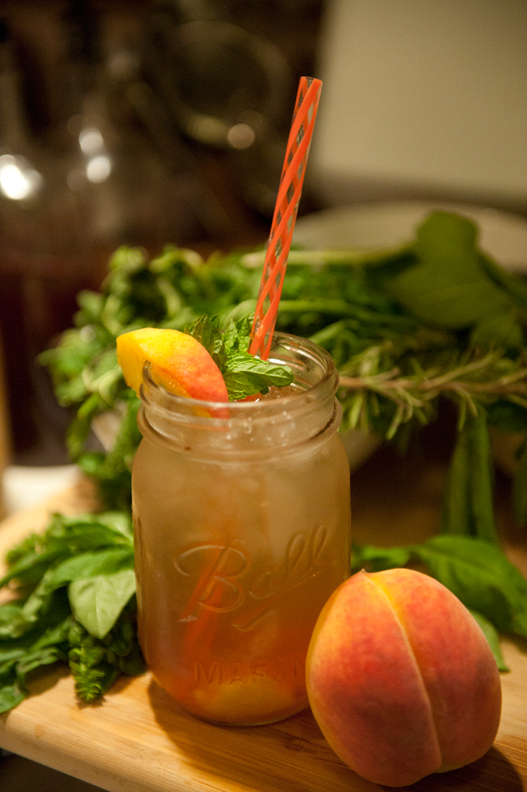 It's been a little while since we posted updates, sorry about that! It's been a busy summer. Since the last post, we had another cocktail party to try out some of our more summer-y drinks on friends to see what's working and what's not. In addition to The Pennsyltucky and the Gatsby Swizzle, one of the new experiments was this rum and peach cocktail.
A Good Man is Hard to Find
2 oz Amber rum
1 oz burnt peach syrup (see below)
0.5 oz Luxardo Amaretto
4 drops peppercorn tincture
3 oz seltzer water
Muddle a quarter of a peach in a mason jar. Combine the other ingredients in shaker with a healthy amount of crushed ice. Shake well and pour into glass, unstrained. Garnish with mint and a peach slice, serve with a straw.
NOTES: When we first created this drink, we both really liked it. It had a good spice to it, and a lot of good, rich sweetness. Upon making them at the party, however, the peppercorn ended up tasting out of place. On the second drinking, we decided to remove the peppercorn altogether, and it improved the drink, but dumbed it down slightly. I still like the overall theme of the drink, but I think it needs one more thing to give it a little kick. We'll be circling back to this one next time we make the syrup.
Burnt Peach Syrup
10 ripe peaches
1 cup brown sugar
Halve and pit the peaches. In a nonstick pan, place the peaches skin-side down in the pan. sprinkle 1/2 cup brown sugar over the top of them and then add 1/4 cup water to the bottom of the pan. Bake at 400° until the sugar on top of the peaches starts to burn slightly and take out of the oven (this took about 35 minutes for me). Transfer the peaches to a pot and add 2 cups of water. Using a muddler or potato masher, crush up the burnt peaches a bit and bring to a boil. Add the remaining 1/2 cup of brown sugar. Simmer for 15 minutes on low, and then strain repeatedly. Once your liquid is cloudy, but free of debris, transfer to a bottle and allow to cool. Lasts about 2 weeks, 2 months if you add 1 oz of everclear and shake well.
NOTES: This is probably one of my favorite syrups to date. It's thick and sweet but really retains the peach flavor with a nice char from the burnt sugar. Pretty versatile syrup, but went best with whiskey and rum in the experiments we tried.