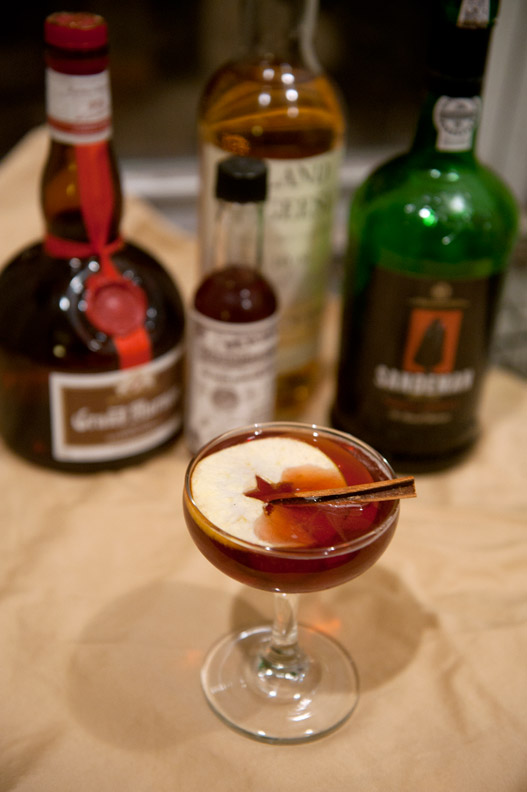 The Smoking Jacket
1.5 oz Sandeman tawny port
1 oz Island of Geese Islay Scotch
0.75 oz Grand Mariner
2 dashes Peychaud's bitters
Baked apple slice
Cinnamon stick
Cut a thin slice of apple and put it in the oven on 400° for about 10 minutes. When the apple is done, take it out and let it cool. Combine the remaining ingredients and shake with ice. Strain over the apple and garnish with a cinnamon stick.
NOTES: I picked up a bottle of the Island of Geese to see how it would work in cocktails, because we both love the peaty flavor of Islay Scotches, but don't really want to waste Lagavulin or Laphroaig in mixed drinks that might fail anyway. In the end, it was a pretty good call. I probably wouldn't drink a ton of it straight, but as a mixer, it turned out to be a sturdy alternative for around $30, rather than the $60-100 that most Islay will cost you.
As for the drink, I had actually expected the Port to really mellow out the drink more than it did. Initially I went with 0.5 oz Grand Marnier, but the drink needed a little boost. In the end, while stiffer than expected, it turned out to be a pretty good cocktail. Smoky and kind of velvety with a nice, well-rounded Scotch kick. Overall, very happy with this one. The second half of the drink gets even better after the cinnamon has had a little time to soak, and the apple slice at the bottom of the glass is pretty tasty, too.