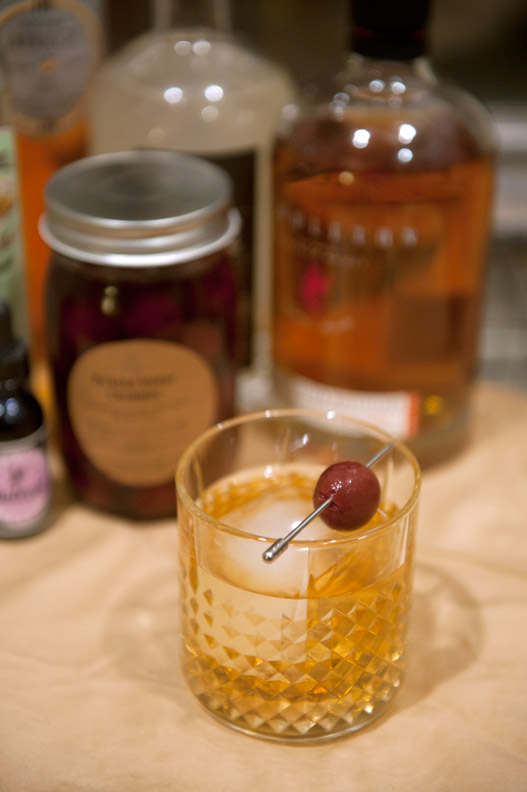 0.75 oz Pendleton Canadian Whiskey
1 oz  Tyrconnell Single Malt Irish Whiskey
1 oz Art in the Age Sage
0.5 oz Rothman & Winter Orchard Apricot
o.25 oz apple cider vinegar
2 dashes Bolivar bitters
Shake ingredients well with ice and strain over a large ice cube. Garnish with a cherry.
NOTES: Interesting, but not there. I may have gotten a little ambitious and tried too many things at once. The Sage is misused here, and Orchard Apricot gets shadowed by the stronger flavors. I'm not generally a huge Canadian whiskey fan…for me it's almost sweet like bourbon-but not sweet enough, and spicy like rye-but not spicy enough. It's only one guy's opinion, but I just don't enjoy the balance of it no matter how many times I try to convince myself otherwise. Tempered with the Irish, however, it turned into a flavor I liked a lot more. The idea of using the straight apple cider vinegar is also something I'd like to explore more. It mixed with the whiskeys in a pretty neat way. Worth revisiting, maybe as shrub. Overall, not a very successful drink, but it gave me a few ideas for trials going forward. And I WILL make something I like with the Sage if it's the last thing I do.
A little aside about the cherry we used: We went with a pickled sour cherry we got canned from Green Aisle Grocery, which was really good. If you live in the Philly area, I HIGHLY recommend you check out their canned stuff. When the weather is nicer, they generally have a booth at the Headhouse Farmers Market, and they'll let you try just about anything they're selling.