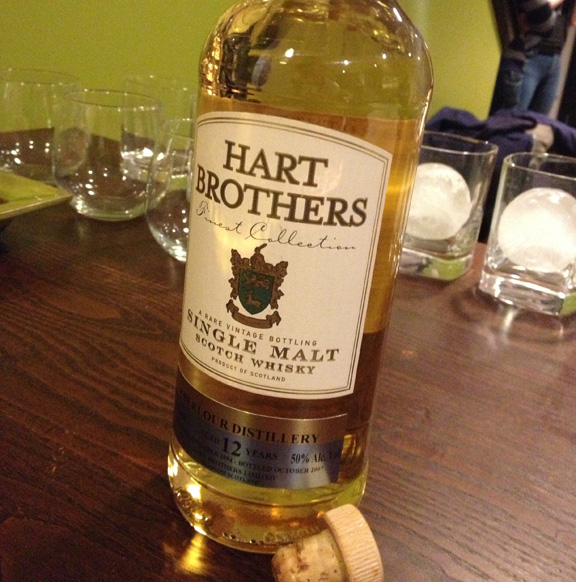 Note from Jon: as I mentioned in last month's post, we're going to have guest posts each month after meetings of the Whiskey Society by the host / person that chose that month's bottles. This month we were graciously hosted by Sarah and Jordan, and Sarah was kind enough to provide us with a write-up of the evening. It turns out she's far better at describing whiskey than I. 
"This is my favorite thing on my calendar each month."  This statement and other similar ones were heard a few times at the second gathering of the Whiskey Society of Philadelphia.  And, honestly, it really is. Our selections for the month were the result of trying out Caskers.com, a membership-based site that features difficult-to-find liquors that you can purchase and have mailed to you.
Our first whiskey was from the Aberlour Distillery – Hart Brothers 1994 Aberlour 12 Year Old Scotch Whisky.  A single malt that's aged in bourbon barrels, the bottle's tasting notes claimed it had a nutty nose, but I found it to be a mild dram, easily sipped while we sat around discussing trips to India, the Philly restaurant scene, and who could claim the most boring work story.  The whisky falls on the sweet side of the spectrum, but wasn't too cloying.  The profile was subtle, with a floral sweetness and notes of vanilla and honey.
As nice as the first whisky was, I was blown away by the second.  Compass Box Flaming Heart Blended Malt Scotch Whisky was a last minute substitute for another bottle and was truthfully an upgrade from the original.  The whisky is blended from Highlands, Islay, and Island single malts and was sipped while we discussed how to pronounce "Islay," what makes a burger a burger, and what we did for New Year's Eve.  This whisky was definitely on the smoky side, but even those of us who normally avoid the smoke found it to be not as aggressive as Laphroig or Caol Ila.  There was a nice balance between peat and earthy smoke, thanks to the Islay and Islands single malts, but no iodine-y astringency, thanks to its Highlands' contributions.  The nose wasn't overly smoky, but the palate was.