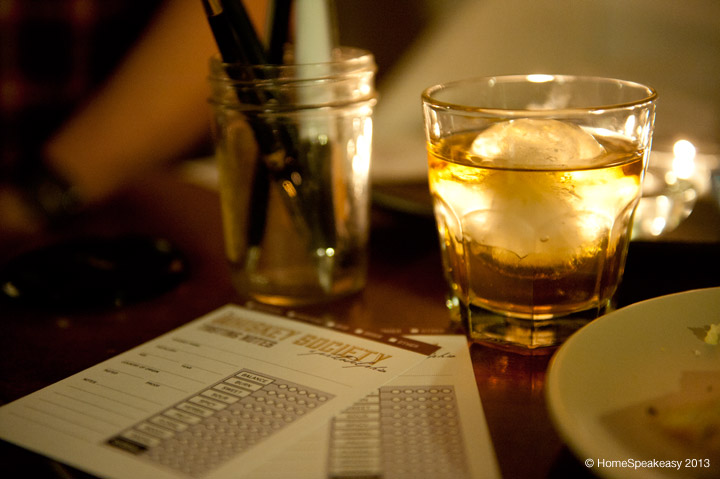 Whiskey Society write-ups are guest authored by the host of that month's meeting. This month we were hosted by Sean Mellody of Mellody Brewing, and his well-behaved dog Barley. 
After joining this new group of friends and whiskey drinkers last month, I was excited to host the group at my place in Queen Village. I was equally happy to share with them a special bottle of whiskey that I procureed during a work trip to India. Mind you, hosting is no small task. You need proper glassware, proper ice options (I had some issues making the large ice balls) and of course some food to make sure we aren't all crawling home on a Tuesday night or too hung over the following Wednesday (mental note – need to eat more food next time.)
Once everyone arrived and was properly greeted by my dog, Barley, we took pour orders and opened the Amrut Fusion. I got the bottle of Amrut when I was in India in January, and it was brought to me by a coworker from the city of Bengaluru – where the whiskey is distilled. It's a 50/50 blend of Indian Malt, grown at the foot hills of the Himalayas, and Scotish malt.  We were able to track our tasting notes this meeting as Jon designed and printed out some nice note cards for us to do so. It tracks on a sliding scale of 1-5 things like the whiskey's balance, burn, smokiness, floral and other attributes, and the cards have come in handy in writing this review of the night. The Amrut poured with a beautifully balanced nose of oak and peat, with hints of flowers and what I can only call sugar. It smelled sweet. Upon tasting, it has a nice subdued smoke, which for me is good as I'm not a peat fan overall, but struck a good balance of sweetness and oak and smoke. The consensus was this was a good pour – thankfully I bought two bottles while in India so I can enjoy it again.
After putting some music on the turntable and lighting us a proper fire we opened our second bottle – The Glenlivet 18. I consulted with Jon on this bottle as we tried to find a good follow up to a whiskey we'd never had. The Glenlivet 18, in my world, is a classic scotch. It's a single malt that poured quite bold with aroma of fruit, "maybe cherries," I wrote and oak. No smoke here, which was refreshing for me. It was a smooth scotch, with little burn and a nice long dry finish with just a hint of oak aftertaste.  All in all, a nice way to finish the tasting. Some of us went on to try some Dad's Hat Single Barrel I had, and some homebrew I've kegged with rye. Let's just say – I'm probably not the only one who needed some help the following morning at work.