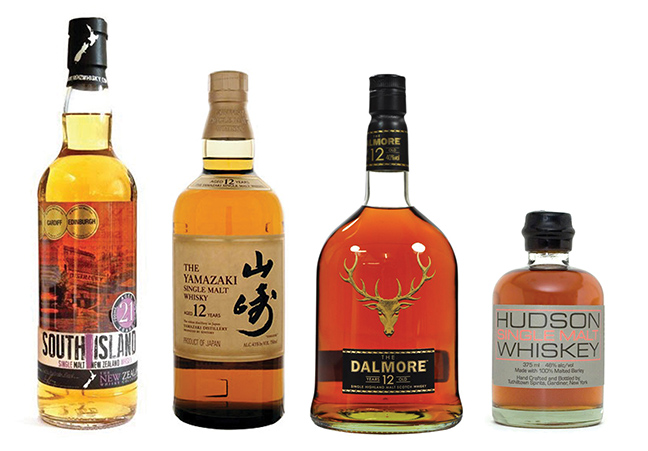 On our honeymoon, we stumbled across what is apparently the only whisky distillery in New Zealand by sheer dumb luck. The distillery itself hasn't been up and running for quite a few years, but all the stock was bought by another company and is still being packaged and sold. This means everything they have is very old, and very limited. I brought back a bottle of the 21 year old single malt for Whiskey Club, and decided to run with the theme by getting one single malt from 4 different places around the globe.
After finally finding SOMETHING made in the US (PA has a sad lack of American malted whisky available in stores), the four we settled on were:
1) South Island Single Malt 21 Year – New Zealand
2) Yamazaki 12 – Japan
3) The Dalmore 12 – Scotland
4) Hudson Single Malt – USA
We were a bit surprised by the results. The South Island Single Malt was good, but very mild with very little memorable character. Everyone agreed that they enjoyed it, but it was forgettable. The term "Sessionable Single Malt" was thrown around only half-jokingly.
The Dalmore wasn't very well received. I'd never had it before, but more than one person opted to not finish their glass. It was astringent, and stronger than it should have been at such a low proof. Not one person stepped up to defend it. Universally panned. Granted, this is in the context of single malts. I wouldn't hesitate to drink it over something like Johnny Walker.
The Yamazaki was the crowd favorite. More "Scotch" than the Scotch, It had a great flavor, nice burn and was just pleasant to drink. Everyone making a stink about Suntory buying Beam would really do well to try a glass of this. I'm willing to bet it would change their mind. It may not be a 1:1 comparison, but you can tell these are people that care about making a good whisky.
Surprisingly, I found the Hudson the most interesting of the lot. I didn't like the first sip, but warmed to it quickly. It smelled and tasted briny, almost like oysters, and of cinnamon. It wasn't as harsh as I expected it to be after just 4 years in the barrel, but admittedly it didn't taste exactly like a single malt. For all it's odd flavors, it was almost a bridge between malted whisky and rye, with a boldness and sweetness not really common in the Scotch family. I may not always love what Hudson is making, but for a young producer, I really do like that they are erring on the side of interesting and bold and not trying to play the "micro-batch aging because we have science" card at every turn, opting for innovation over actual substance. I'm looking forward to seeing how the whiskeys evolve over time.
All in all, another successful meeting. I never cease to be amazed at what surprises me in the side-by-side tests. My favorite is almost never what I thought it would be.
In other news, Jen has a surplus of frozen smoothie fruit, which means it's time for me to make some syrup. Hopefully I'll have a cocktail experiment to post soon, especially if we're going to get snowed in again. No better time to drink than when you're trapped in your house.
SHORT VERSION: South Island Single Malt: smooth, drinkable, forgettable; The Dalmore: not fantastic; Yamazaki: predictably great; Hudson Single Malt: surprisingly interesting.