After weeks and weeks of anticipation for Art in the Age's newest spirit RHUBY, Jon surprised me with a brand new bottle that he had literally snatched from the hands of a clerk at our local Wine and Spirits store. We had been waiting for a while to try their new liquor, being huge fans of ROOT and SNAP. We each had a glass of RHUBY by itself to see what it tasted like on its own and it's definitely unlike Art in the Age's other 2 boozes.  RHUBY is much more delicate and has a vaguely spicy initial taste with a surprisingly citrus-y finish.  Unlike ROOT, I don't think I'd drink this spirit on the rocks, but in my opinion, it makes a really great addition to cocktails with rum, gin or whiskey.
I decided to start my experimenting with RHUBY and rum, so I mixed up this little cocktail: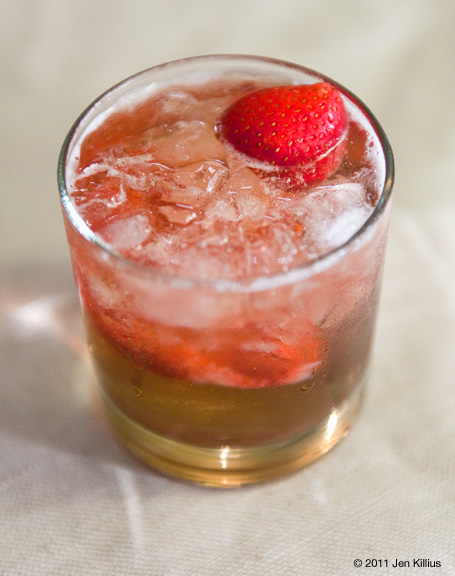 Pale Fire
1.5 oz RHUBY
1.5 oz 10 Cane Rum
1 oz vanilla syrup
3 dashes West Indian Orange Bitters
2 strawberries, muddled in a rocks glass
Shake well with ice, and serve over crushed ice and muddled strawberries and a strawberry garnish.
NOTES: I have to admit, this drink would have been 10x better had I made a real vanilla bean syrup and not an embarrassing short cut syrup that I won't even post the recipe for because it was awful. I think, overall, the drink would be fantastic with 1.5 oz RHUBY and just 1 oz of 10 Cane plus a real vanilla syrup (that I swear I'll make once I can afford to buy a handful of vanilla bean pods).  I'm excited to try RHUBY with gin as well, because I think the two flavors will mix very nicely.  Also, I'm making a peppercorn tincture for RHUBY too because I'd really like to bring out the hint of pepper and spice it has.