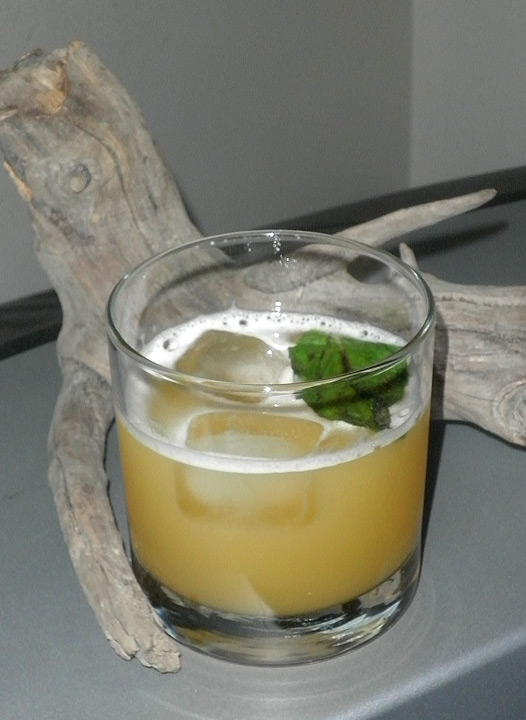 Last Sunset
2 oz 10 Cane Rum
0.25 oz Becherovka
1 oz Mint Cinnamon Syrup
0.5 oz Orange Juice
0.5 oz Pineapple Juice
Shake ingredients well with ice and pour over ice cubes. Garnish with a sprig of mint.
NOTES: I actually made this one for our friend Linzy and didn't drink it beyond the testing, so I let her name and describe it for me:
"it's a delicious cocktail for those people, like me, who can't handle strong drinks. the orange hits you first, then the pineapple, then a hint of mint at the end, with the rum being very subtle. it was quite refreshing, and a little more rum wouldn't hurt, if you're into stronger drinks."
Mint Cinnamon Syrup
Toss a hearty handful of mint, stems and all, into a pot of water (about 4-5 cups). Add 2 cinnamon sticks and bring to a boil. Allow to simmer for about 20 minutes. Add 1 cup of sugar and simmer for an additional 15 minutes. Double strain out botanicals and allow to cool before transferring to a closed jar for refrigeration. If you want to stretch out the life, add 1 oz of overproof vodka or everclear and shake well before sealing.
NOTES: this is a good one, but much more mild than most of the syrups. It isn't so much a driving flavor in a drink as it is a nice flavored sweetener, in my opinion. Maybe more concentrated would change that, but I don't really mind.