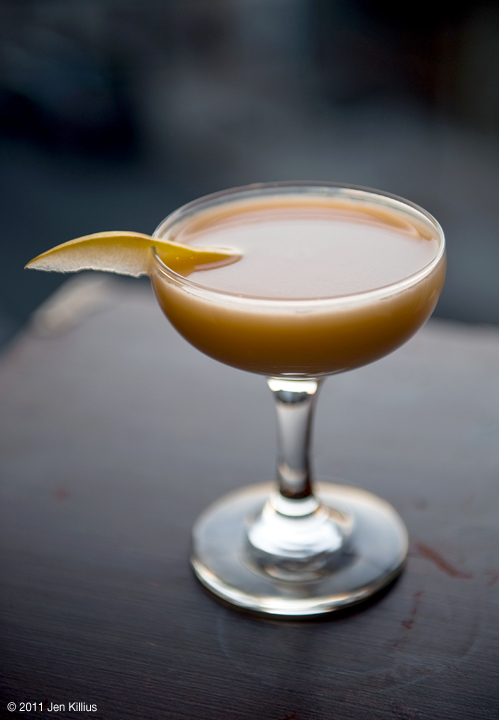 1.5 oz Buffalo Trace Bourbon
1 oz Mezcal
1 oz Pear Vanilla Shrub
1 tbsp condensed milk
2 dashes chocolate bitters
Shake ingredients well with ice, strain and serve up. Garnish with a slice of pear.
NOTES: I set out to try something in the bourbon family with the pear shrub. In my head, I had a good creamy fall drink, but I know the acetic acid from the vinegar in the shrub would curdle any milk I put in. I tried avoiding it by using condensed milk, and while it seemed to work at first and didn't actually curdle, if left to sit for a short while, it would separate a bit. The flavor was actually great, but without constant stirring, it just started to look unappealing. I want to pin down a way to make this drink happen, but I'm going to have to take a different approach, I think. The pear shrub turned out great – one of my favorite shrubs so far, up there with the sweet potato, brown sugar and rosemary. If anyone's got any ideas for a solution for a creamy drink that still lets me use the shrub, I'd love to hear your suggestions!
Pear Vanilla Shrub
Core and slice up two Bartlett pears, and put in a mason jar. Cut a vanilla pod longways and use a knife to scrape out the beans. dump the beans AND the pod into the jar with the pears. Pout in 2 cups of apple cider vinegar (enough to cover everything while leaving room to agitate), and close the jar. Shake vigorously once a day for 5 days.
On the 5th day, pass the contents of the jar through cheesecloth to remove the solids. Using a fine cheesecloth will catch the tiny vanilla beans, but a looser weave will not. Bring the 2 cups of liquid to a boil in a saucepan and add 2 cups of sugar. Simmer for 15 minutes.
Allow to cool and pass through cheese-cloth lined funnel into a jar. Add 1 oz of everclear or overproof vodka, close the jar and shake well. Refrigerate. The shrub should last for a couple of months, but flavor will be best sooner.