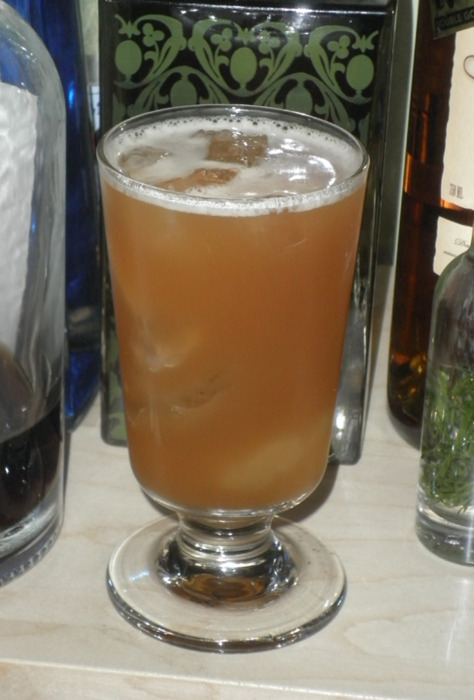 1.5 oz Rye
1 oz Mezcal
1 oz Sweet potato & rosemary shrub (recipe below)
0.5 oz Honey syrup (recipe below)
0.25 oz sweet vermouth
Shake ingredients and pour over crushed ice.
NOTES: surprisingly tasty. Not overly sweet, smoky, and packs a pretty solid alcoholic punch. Would benefit from garnishing with rosemary for the scent, had I not used it all in the syrup.
Sweet Potato & Rosemary Shrub
1 small sweet potato
8 oz apple cider vinegar
6 oz light brown sugar
1 sprig rosemary
Peel and slice sweet potato into smallish chunks. Place in container and submerge in vinegar. Allow to sit [sealed] for 4 days, shaking daily. Strain 8 oz vinegar, and combine in saucepan with brown sugar and rosemary. Once boiling, simmer for 10 minutes, strain well and bottle. Good for a month if refrigerated.
Honey Syrup
8oz honey
8oz water
Boil together until thoroughly mixed, and bottle. Good for at least a month if refrigerated.