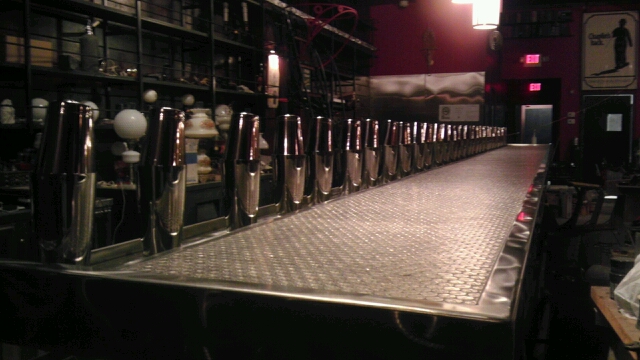 Just a few updates on things:
Hop Sing Laundromat is coming along nicely. We checked in with Lêe again for what he tells us is the last time until opening to check out the furniture and completed bar. The bar (above) itself looks incredible. The wide, long stainless steel bar is covered in nickels and will give anyone plenty of room to drink. As for the seating, it's all big, heavy antique chairs with large-enough tables and plenty of room between them to prevent that awkward situation in smaller settings where you end up assaulting the next table with your ass when you get up to use the bathroom. Still no firm opening date, but it looks like it is getting close, and we're just as excited as ever to see the finished result. More on Hop Sing Laundromat here and here.
The Bitters Contest is over. We sent out the prizes to our 4 winners, so they should be arriving soon, hopefully safe and sound. We're really looking forward to hearing what people think of them and making some adjustments for the next batch. We had a lot of fun with the contest, so be sure to keep an eye out for more giveaways with future batches.
The Bar Bag is not forgotten. I got a little side-tracked because holy hell, hand-sewing things takes FOREVER. The front of the bag is finished (the bulk of the storage), so now I just need to make two smaller side pockets and come up with some type of divider system for the inside. I hope to finish it soon, and when I do I'll post pictures.
Sorry for the lack of drinks. Jen is training for a marathon this Sunday, so our alcohol consumption has gone down. Once it's over, we hope to be back to business as normal. I've got an idea for something I want to start this weekend that could either be a lot of fun or a giant failure, but you can be sure I'll post the results either way.
So that's about it. In the meantime, check out some of the links we've added over on the right to other booze and food blogs that we love.