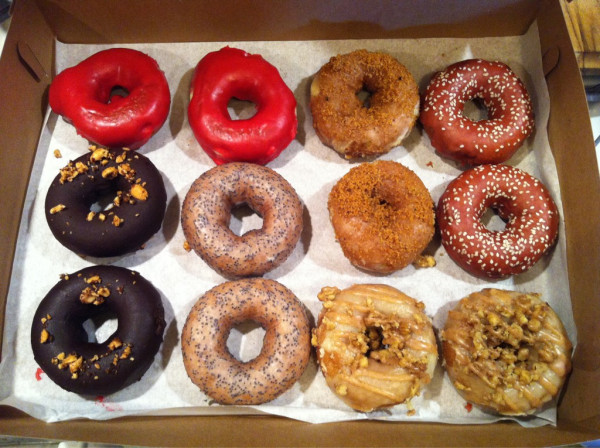 When Federal Donuts on 2nd Street opened, like most of the city, we were excited. We were even more excited when the rumors proved to be true, and the donuts were just as tasty and unique as we had heard. The only problem is that the donuts weren't made of alcohol, so we set out to remedy that.
This past Saturday, we stopped in and grabbed two of each of the six "fancy" donuts and tried our best to make a cocktail version of each of them. Since Jen was training for the Philadelphia marathon and not drinking, our friend Jamie came over to help with the tasting and consuming of all the mid-afternoon drinks. We'll be posting our results over the course of the week.
Oh, and please keep in mind, this isn't any official tie-in or promotion or anything. We bought the donuts like anyone else and Federal Donuts has no idea we planned to do anything but eat them. Hopefully they don't mind that we had a little fun with their creations. If you haven't yet, you should stop in and check them out: they really are as good as they look.
Spicy Chocolate Peanut
Pomegranate Nutella Tehina
White Chocolate Raspberry
Lemon Poppy
Key Lime
Apple Walnut