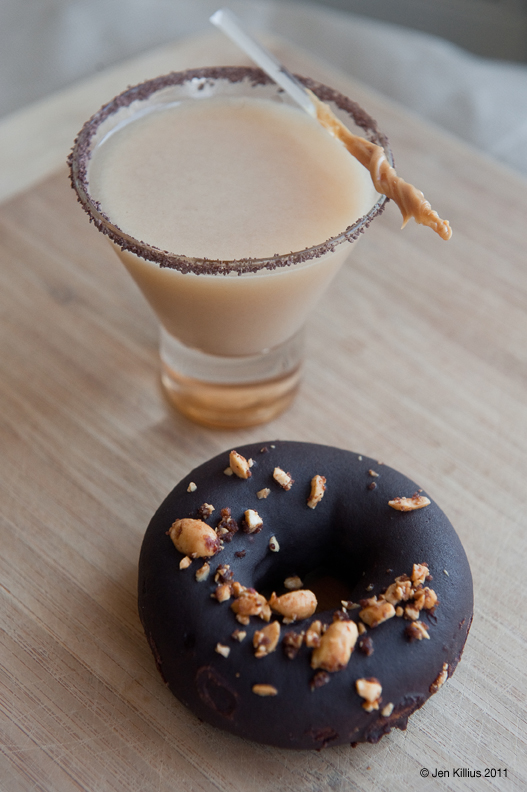 1.5 oz Penn 1681 Vodka
0.5 oz Benedictine
0.25 oz Honey Syrup
1 oz Spicy Peanut Syrup
3 dashes Chocolate Bitters
Pour a little honey syrup onto a wet paper towel and dip the rim of the glass into it. Then pat the honey-rimmed glass onto a plate covered in a thin layer of cocoa powder. Shake ingredients well with cracked ice and pour into the glass. Garnish with a little peanut butter.
NOTES: Pretty tasty. Definitely more peanut and less chocolate than the drink, but pleasant on its own. A *little* bit too close to one of those [flavor]tini drinks of the late 90s, but I think that's just a risk you run with a vodka cocktail and another strong flavor. The spice in the peanut syrup was a nice touch which, as Jamie pointed out, gave the drink more of a Thai peanut sauce flavor than peanut butter and jelly. I'd still call this more of a dessert than a drink I'd have at a bar, but it wasn't as cloying as it could have been. I wouldn't make this for myself, but I'd definitely keep it on the books if I needed something for a holiday party or something like that.
Spicy Peanut Syrup
bring 1/2 cup chunky peanut butter and 1.5 cups of water to a boil in a saucepan. Add 1/2 cup sugar & 1 tbsp cayenne pepper and allow to simmer for 15 minutes, stirring regularly. Strain a LOT. I passed it through a fine strainer about 4 times to get all the solids. Allow to cool and bottle.