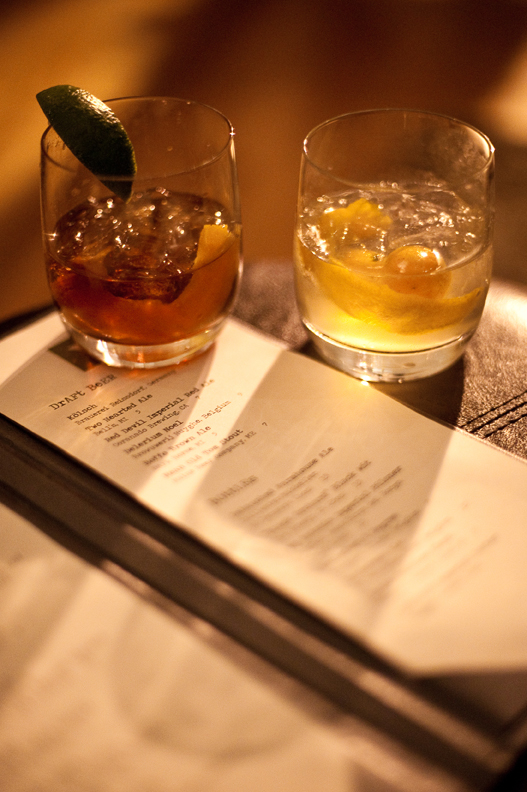 The holidays are here, which means it's time for getting together with friends and family, celebrating the past year and toasting the new one to come. For us, there's no better way to do this than with a delicious cocktail at one of Philly's amazing bars and restaurants.  Philly Homegrown, a food and drink blog by Visit Philly that promotes and celebrates local food, recently featured a great post about the best holiday drinks in town this season. Some of the featured drinks came from well-known watering holes like the Franklin but many came from unexpected places like C19, Positano Coast and Zahav. Visit Philly asked us to check out the list and have a drink on them. Never ones to turn down a drink, we said yes. I'd been meaning to check out Vedge ever since it opened last month, especially after hearing good things about their cocktail menu, so we headed over there last night, not sure what to expect.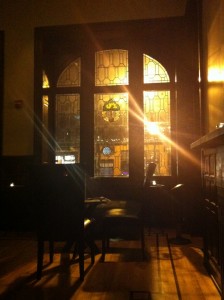 We were seated in the gorgeous cocktail lounge area of the restaurant, which we both thought was a great concept.  The lounge resembles an old-timey smoking room with two giant windows featuring stained glass coats of arms overlooking the busy street. Daniel, one of the 2 bar managers at Vedge, came over to chat with us about the drinks and their bar program.  Jon ordered the Apple Cide Car from the Philly Homegrown list (it's not on the menu anymore, but just ask for it) and I couldn't resist the timely Sugar Plum. Jon's Cide Car came out first and it did not disappoint. A spin on the classic Sidecar, it mixes Laird's 100 Proof Bonded Apple Brandy with fresh cider, maple, orange and house made smoked cinnamon. Jon thought this was the perfect kind of drink to let the bonded apple brandy really shine. The smoked cinnamon also added a really lovely aroma to drink, while the maple and cider flavors smoothed everything out. The Sugar Plum, made with Plymouth gin, Averell Damson gin, St. Germain, lemon juice and garnished with festive cranberries, was a really surprising drink. I was expecting something cloying and sweet but what I got was a really subtle, slightly sweet and floral cocktail. Daniel created this drink and introduced me to Averall Damson gin, which is a gin infused with tart damson plums from New York.  The sugar content makes this gin more of a liqueur but it still retains the flavor of botanicals nicely.
The rest of the small but creative cocktail menu looked so great we couldn't resist ordering another drink. This time Jon got the Bitter Butterfly (Del Maguey mescal, Ramazzotti, Dolin sweet vermouth, house made ancho bitters, lime) because, as he says, this is The Winter of Mezcal, and I had been eying the Cold Meiser (Cocchi Americano, Luxardo Maraschino, Rothman & Winters apricot liqueur, meyer lemon, kumquat) because we just recently got a bottle of Rothman & Winters apricot liqueur and I've been meaning to start experimenting with it. Jon thought the Bitter Butterfly would be a great intro to mezcal drink.  It was smoky with a hint of bitterness from the Ramazzotti, but very smooth overall. Daniel mentioned that while Vedge was getting ready to open, he started creating his own variety of bitters, such as the ancho bitters in the Bitter Butterfly. He was awesome enough to let us smell and taste them all and I think Jon secretly wanted to pocket the Cherry Cola bitters.  My drink was a tad on the sweet side for me but would be great for someone who wanted a fruitier and not sour or bitter cocktail.
All in all, our trip to Vedge was awesome, including the 10,000 small plates that we devoured  (seitan taco, HELLO). Expect a rotating, seasonally conscious list of awesome cocktails by Daniel and Jill, and definitely go sit in the dark and intimate cocktail lounge.
More after the break!
The night was young and we were still thirsty, so we decided to explore more of the Philly Homegrown drink list on our own. Talulah's Garden is a restaurant that Jon and I both adore, but we don't usually think of it as a place to get a great cocktail. We sat at the bar and Jon got The Loner (a rye smash with black walnut bitters and orchard fruits) and I tried The Forager (Hendrick's gin, orange, sage, egg white) from the Philly Homegrown list because I'm a sucker for egg white drinks. Jon's cocktail was AMAZING. Somehow we have to get our hands on or make some black walnut bitters because they really made what could have been a ho-hum drink something spectacular. Jon's notes on this drink were: "BLACK WALNUT BITTERS A++++++ WOULD DO BUSINESS WITH AGAIN". Likewise, my sage martini was awesome. I wasn't sure what to expect, but I was very happy with how sage-y it turned out to be. Brian, our awesome bartender, said the key was starting with good quality fresh sage and then to gently bruise the orange on top of it in the shaker to release and mix the oils. After nerding out with Brian over cocktails and booze recipes, he mentioned that he has been doing some single serving non-cream eggnog drinks for guests by request. After my own nog experimenting last week, I had to try it. He cracked a single egg into a glass, whipped it with sugar then added cider, SNAP, bourbon and grated fresh nutmeg on top. This was seriously good nog and I highly recommend everyone try to go to Talulah's Garden before the holidays are over and request it. Sometimes I find that SNAP is hard to mix with other spirits as it can overpower everything very easily, but the bourbon and egg really tempered down the sweetness and made it very drinkable while still packing an alcoholic punch. Overall I think we were really surprised at how great the atmosphere was at the bar in Talulah's Garden; the other patrons at the bar were friendly and chatty and Brian the bartender is a self-proclaimed cocktail geek, so you can order something off-menu with confidence. It's definitely someplace that we'd go back to exclusively for drinks and people watching.
On our way home, we passed Zahav and decided to have one (ok 2) more nightcaps.  Again, Zahav is a place I don't normally expect to have strong cocktails, but I was intrigued by its mention in the Drink Round-Up. Right away Jon spotted the Marble Rye (Pumpernickel & caraway-infused rye, celery soda) and I decided to try the New Jerusalem (sparkling wine, honey, rum, orange). Mine was bubbly and light, though a bit too sweet for me.  I definitely wanted to steal Jon's drink; it was strong and very savory, but not in an overpowering way, which I find to be rare. The celery soda mixed extremely well with the infused rye and made for a very unique taste. Our bartender talked Jon into also trying the Whiskey Harif (whiskey infused with peppers, Campari, orange), and couldn't elaborate on the extremely spicy Hungarian peppers, saying only that they buy them in bulk once a year from a mysterious online seller. I ended the night with a Garden of Good and Evil (Plymouth gin, Lillet, mint, orange) and honestly, I was so toasty after all my drinks, the only thing I remember about it was the wonderful minty flavor.
We had such a fun night going outside of our normal drinking comfort zones. Sometimes I think we forget that many bars and restaurants in Philly have stepped up their cocktail game and Philly Homegrown's Drink Round-Up gave us a great excuse to see what's going on in the city, booze-wise. Local readers, please make sure to check out the awesome and thoughtfully created cocktail list over at Philly Homegrown and take some time during the next few hectic holiday weeks to relax at one of these great places and try a new, locally crafted drink. Thanks again, Philly Homegrown, for the opportunity to check out these awesome places!
More pictures below!