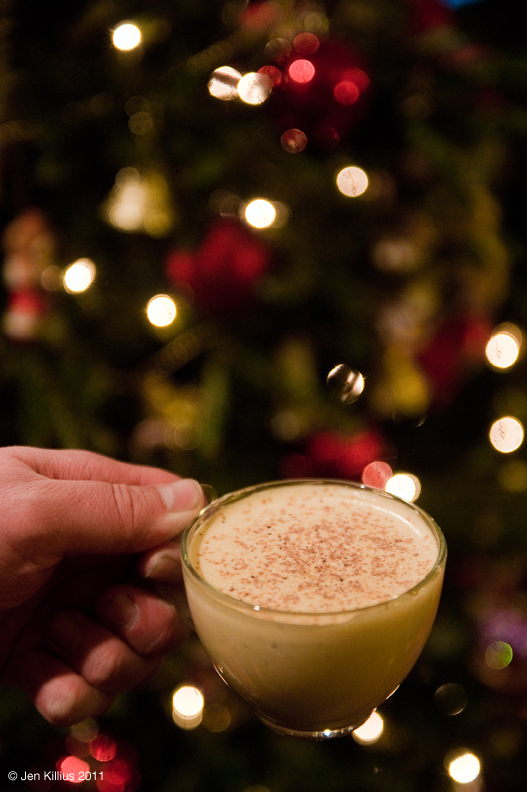 Last week, I wrote a holiday themed classic cocktail post for Drink Philly, featuring some of my favorite recipes. I made almost all of them for our holiday cocktail party on Friday, but I ended up tweaking the eggnog recipe last minute because I found an almost empty bottle of ROOT in the back of our liquor shelves. I'd heard of people doing SNAP and ROOT nogs so I decided to give a go:
10 large eggs, separated
1 cup superfine sugar
3 cups heavy cream
2 cups 10 Cane rum or bourbon
1 cup ROOT
6 tsp. pure almond extract
6 tsp. pure vanilla extract
1 tsp. freshly grated nutmeg
1 tsp. ground cinnamon
Garnish with grated nutmeg and cinnamon
Separate eggs into two bowls. Beat yolks until stiff and beat whites with half the sugar until peaks form. Slowly fold whites and yolks together. In another bowl, beat cream with almond extract, vanilla and remaining sugar in a bowl until stiff. Slowly fold in cream with egg mixture. Add rum and ROOT and stir. Mixture can be refrigerated overnight, or served immediately. Garnish with freshly grated nutmeg. Serves 18–20.
NOTES: The eggs whites and cream took FOREVER to beat, but thankfully my good friend Alyssa was there to lend me her strong arms. I was extremely pleased with how the nog came out; not having made a ROOT-nog before, I wasn't sure how much I should add, so I just guesstimated. I will say it came out a little more alcoholic than I had wanted, so in the future, I'd recommend keeping the ROOT at 1 cup but cutting back the rum (or bourbon if you go the bourbon-nog route) to only a cup or a cup and half if you want it a bit more boozy. The ROOT gives it more depth and a richer flavor and the slight bitterness of the ROOT also helps cut some of the sweetness of the cream and eggs, making it easier to drink a few glasses right in a row.
So, if you are looking for a non-traditional tweak on a traditional holiday drink, definitely consider experimenting with ROOT or SNAP, or maybe some interesting amari, or liqueurs (Domaine de Canton is popping into my head). If anyone else has made nog with a different recipe or incorporated other non-traditional ingredients, I'd love to hear about it!