Last night, we went with friends to check out The Trestle Inn, something we've been meaning to do since it re-opened recently. After hearing the magic words "whiskey," "cocktails" and "cheap," we had high hopes for the place.
Upon arriving, it wasn't QUITE what I had expected (the early press led me to believe it would be a little on the fancier side), but this wasn't necessarily a bad thing. Our bartender was almost surprisingly friendly and helpful, answering any questions we had without pretension or rush, whether it was about the $2 popcorn or his feelings on the whiskey selection. Jen was absolutely in love with the 60s music and video projections of go-go and burlesque dancers.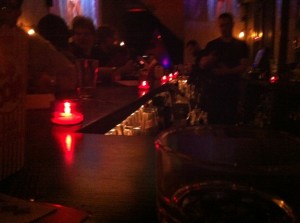 The drinks were good. Nothing groundbreaking or phenomenal, but decent enough. I, personally, would have liked to see a few less fruit-sweet whiskey drinks. The food was good and cheap. The parts of the place when viewed individually were wholly unremarkable, but when they come together, The Trestle really seems to be onto something. A lot of what I have been hoping would come out of the craft cocktail movement is present here: good drinks in a low-key, regular-friendly space where you can come without worrying about spending $200 on a decent night of drinking. I love the fancy, classy cocktail bars of the world, and I have been spoiled by living down the street from Southwark since it opened, but Trestle Inn is the kind of place that not only makes drinking cocktails more affordable, but makes it more accessible to the kind of person that would probably never set foot in The Franklin. The drinks will never be of the same caliber, but it's going a long way to fill in the gaps between the two poles. Most importantly, it was a fun place. Relaxed in a way that a lot of bars seem to forget how to be.
We've got a friend moving into that neighborhood, so here's to hoping we have more excuses to return.
The Trestle Inn is at the corner of 11th and Callowhill streets in the Eraserhood or the "Loft District" or whatever you want to call that viaduct area these days. www.thetrestleinn.com