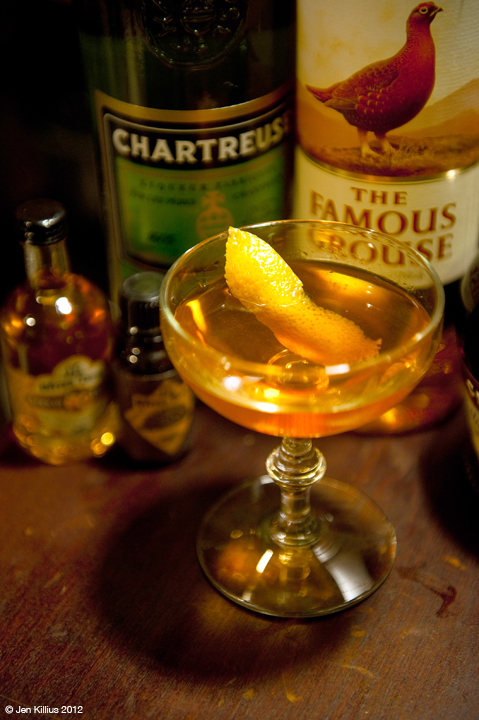 1.5 oz Famous Grouse Scotch
0.5 oz Bitter Truth Apricot Liqueur
0.5 oz Green Chartreuse
0.25 oz Creme Yvette
3 dashes Bitter Truth Jerry Thomas Bitters
3 drops mint tincture
Stir ingredients well with ice and strain into a coupe. Flame orange peel into drink and drop in to garnish.
NOTES: Bitter Truth was kind enough to send us a little sampler pack this past week with assorted bitters and a few samples of their new liqueurs (we'll do a little write-up on the while thing once we get them photographed and have a chance to test out everything), but I thought I'd jump the gun a little and try out some of their stuff in a new drink. This one ended up being really good with a little bit of tinkering – the mint and the Jerry Thomas bitters went really well with the Chartreuse, I thought. It was definitely a stiff drink, but the flavors mingled really well, and overall it had a nice burn with kind of a smoky, mint-tinged quality. I'll definitely be making this one again. I'd be interested to try it with a drop or two of some strong Islay Scotch to really play up that smokiness. Maybe up the volume overall very slightly, too.