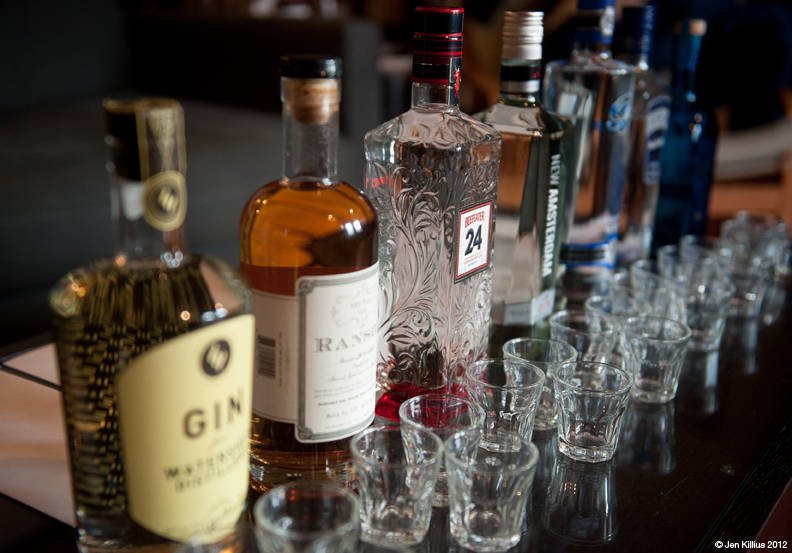 Spurned on by an article Jen was writing for The Drink Nation about gin, we decided it would be a good idea to pull all of ours out, line them up, and taste them in a row so we could compare the subtler differences of the — at a glance — similar spirits. We also invited over friend and gin-fan Becky to get another viewpoint.
The first thing we noticed was how surprised we were at the depth and breadth of flavor variations. I've always been a whiskey drinker and wrote off gin as "gin," so this was a bit eye opening. Here's the consensus as to what everything tasted like to the three of us (in the order we tried them):
1| New Amsterdam ($13.99, 80 Proof): This one was really sweet up front. It didn't have a strong juniper or floral taste, but a lot of citrus. It smelled like rubbing alcohol, but it tasted surprisingly good for the price. We all agreed we wouldn't use it in a drink set up to feature gin's flavors, but this would probably be a great buy for someone that really loves their gin and tonics.
2| Bell Ringer ($15.99, 94 Proof): First thing we noticed was the strong rubbing alcohol smell. All hopes that this wouldn't be indicative of the flavor were dashed the moment we sipped it. It was strong, without a lot of defining botanical character. It just tasted bad. Of the three of us, I was the only one that finished the tiny glass, and did so unhappily. As we should have been discussing the flavors, we were mostly preoccupied with what we would do with the rest of the bottle, because none of us ever wanted to drink it again.
3| Plymouth Dry Gin ($26.99, 82.4 Proof): Dry up front with a sweet finish, we all really loved the Plymouth. It had a ton of character and spice and a lot of good juniper flavor, and it just went down smooth. If you're looking for a gin to really play as GIN in a cocktail (martini is obviously the first that came to mind), this is your man. As far as a gin tasting like you think gin tastes, this was one of our favorites of the day.
Five more after the break!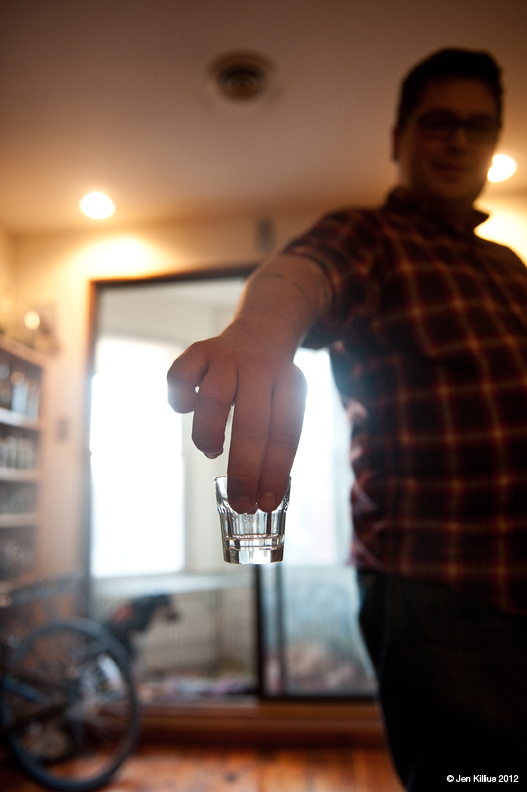 4| Bluecoat American Dry Gin ($26.99 [but almost always on sale], 94 Proof): Our good old local Bluecoat from Philadelphia Distilling was kind of the opposite of the Plymouth. It starts sweet and ends dry with less juniper and more citrus. Something about the flavor tasted more warm and round. Another clear winner with all of us in the same applications as the Plymouth but with drastically different results.
5| Hendricks ($30.99, 88 Proof): Not sweet, but floral, Hendricks was the third in a row that was a delicious gin that tasted nothing like the others. We got some citrus (grapefruit, maybe?) and roses. The whole thing was really complex and could really be enjoyed just in a glass with some ice. We didn't taste any of the famous cucumber, but decided that could just be what accounts for the smoothness without actually lending much flavor.
6| Beefeater 24 ($27.99, 90 Proof): This is supposed to be an "artisan cut" of Beefeater's standard London Dry Gin. It didn't smell strongly or taste strongly of anything. I was aware I was drinking gin, but only barely. I know some people might really enjoy a gin that is so mild that it doesn't bite in any particular way, but to me it just felt like a cop-out. The allure of choosing to drink a gin that tastes as little like gin as possible is lost on me. Jen and Becky both were kinder in their review, but with the same general notes: Smooth, mellow and forgettable. Good for people that don't want to taste their gin at all.
7| Watershed Gin ($28.99, 88 Proof): This one was a bit of an outlier, as we picked it up in Ohio and it isn't available here yet (although with the change in PA state law, you could order it from The Party Source now!), and we had middling hopes for it. While no one expected it to be bad, no one really expected to be blown away either. Oddly enough, the Watershed ended up being the biggest surprise of the day. It's definitely a very specific flavor, but it was one of the most unique gins any of us had ever tried. It had a strong earthy, woody (cedar?) aroma, and the flavor wasn't dry or sweet, but spicy, grassy and well rounded. The consensus was that the use of the gin would be restricted by how particular the flavors were, but if you could find the right drink for it, it could be fantastic. Celery bitters were the first thing that came to mind.
8| Ransom Old Tom ($35.99, 88 Proof): Based on the style of gin distilled before prohibition, Old Tom gin is certainly a different flavor than the standards we had been sipping all day. It had a caramel aroma and the flavor was almost reminiscent of bourbon. Brown sugar and vanilla in it's sweetness, it had a solid bite to go with it's great, complex taste. This was one instance where the most expensive of the gin did not disappoint. Would be great for sipping or in a martini, and I'd be really hesitant to dilute the flavor with much else.
So that's it. It was really informative to run through everything at the same time, rather than trying to compare a gin to a gin you had a week earlier. We got to know our spirits a little and feel a bit more comfortable picking which gin for which complementary flavors. I think we'll be doing this with all our other drinks at some point because, well, it was a lot of fun. Big thanks to Becky for her help and input, too!