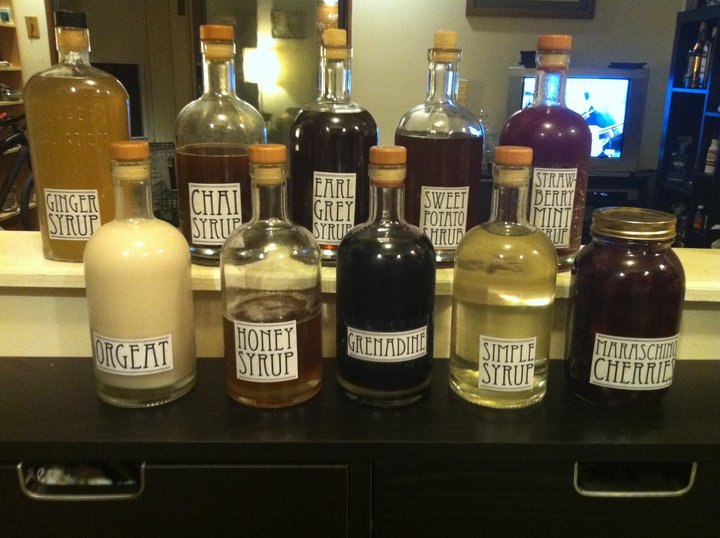 So, we are having a cocktail party, and need a metric crapload of ingredients for the drinks we've decided on serving. This is the finished product, and since a few people have asked for a recipe here and there, This is going to be the full clearinghouse for all of them. Full list of recipes after the jump:
Ginger Syrup
1 chunk of ginger about the size of my thumb, chopped. Put ginger and 1 cup water in the blender and puree. pour into saucepan with 1 cup sugar, bring to a boil, and simmer for 30 minutes. Strain twice to remove chunks.
Chai Syrup
3 Black Tea bags
1 tsp ground cinnamon
1/2 tsp ground cloves
1/2 tsp ground ginger
1/2 tsp cardamom
1 bay leaf
6 tbsp honey
1/2 cup brown sugar
3 tbsp vanilla
Bring water and tea bags to a boil. Add all remaining ingredients EXCEPT vanilla. Simmer for about 20 minutes until syrup thickens. Add vanilla and cook for an additional 2 minutes. Remove from heat and strain twice. Allow to cool, then bottle. Will settle a bit after bottling, so shake before using.
Earl Grey Syrup
Soak 1 Earl Grey tea bag in a large glass of hot water for at least 1 hour.
Bring 7 oz of tea to boil in saucepan WITH tea bag, and add 4 oz sugar. Simmer for 10 minutes with tea bag in pan. Remove from heat, pass through cheese cloth and bottle. Keeps for a month if refrigerated.
Sweet Potato Rosemary Shrub
1 small sweet potato
8 oz apple cider vinegar
6 oz light brown sugar
1 sprig rosemary
Peel and slice sweet potato into smallish chunks. Place in container and submerge in vinegar. Allow to sit [sealed] for 4 days, shaking daily. Strain 8 oz vinegar, and combine in saucepan with brown sugar and rosemary. Once boiling, simmer for 10 minutes, strain well and bottle. Good for a month if refrigerated.
Strawberry Mint Syrup
6 large strawberries
15 mint leaves
1 cup sugar
1 cup water
bring half of the water, sugar and mint to a boil, reduce to low heat and simmer. puree strawberries in blender with other half of the water. add to the remaining mixture. simmer on low heat for 20 minutes. strain twice to remove solids.
Orgeat
2 1/4 cups raw almonds, sliced
3 1/2 cups tap water
3 1/2 cups distilled water
1/2 cup organic cane sugar
1 oz. vodka
1/4 tsp. orange blossom water, or to taste
We just pulled this one straight from Imbibe, but after making it and seeing how quickly it separates, next time we will be boiling like the other syrups in step 4 instead of just shaking.
Honey Syrup
8oz honey
8oz water
Boil together until thoroughly mixed, and bottle. Good for at least a month if refrigerated.
Grenadine
1 qt Pomegranate juice
2 cups sugar
3-4 dashes Orange Flower water
Bring sugar and juice to a boil. Simmer for 20 minutes. Remove from heat and bottle. Add flower water and shake well.
Simple Syrup
Equal Parts sugar and water, simmer for a few minutes to thicken.
Maraschino Cherries
1 lb sweet cherries
3/4 cup natural sugar (or demarrara)
1/2 cup water
1.5 tbsp vanilla extract
2 tsp fresh lemon juice
1/2 tsp nutmeg
2 sticks cinnamon
pinch of cardamom
1 cup Luxardo maraschino liquor
1) Pit the cherries
2) Bring all ingredients (except cherries and Luxardo) to a boil and reduce heat. Simmer for 5 minutes.
3) Add cherries and cook over low heat for 5-10 minutes, until cherries cook down and become soft.
4) Add Luxardo, stir in well. Once combined, remove from heat.
5) Transfer to jar and put in refrigerator without lid.
6) Once cool to the touch, cover tightly and keep in the refrigerator. They should last anywhere from 2 weeks to a month.
NOTE: We fortified all the syrups with about .75 oz everclear per full bottle to help them last longer. Seems to have worked pretty well so far.