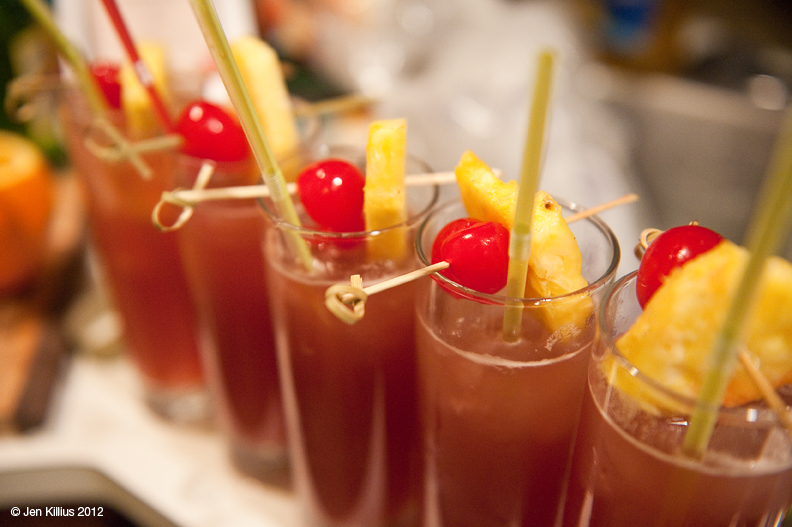 From time to time, we like to have little cocktail parties to try out our drinks on our friends. This time around, Jen had about enough of Winter, so we jumped seasons and went straight for Tiki. In addition to the Treasure Island and Under the Volcano that we already posted, we came up with another three of our own, as well as five established classics to anchor the whole thing.
While it was a bit more intense than the standard party (Tiki drinks have a LOT of ingredients and even more garnish), it was a lot of fun. We pulled a lot of our classics and syrup ideas from Beach Bum Berry Remixed, which we both highly recommend if you're into this kind of thing. Having a good base of syrup seemed (at least to us) to be just as important as having a good selection of rum when putting these drinks together, so here are a couple recipes we used, in the event you're interested in trying them out yourself. They do tend to be a bit more complex than your average syrup, but you can really taste the difference.
Recipes and more photos after the break!
Falernum #9
This is the one that comes up a lot, and really says "Tiki" more than anything else you can add. It's a little time-consuming to make, but it is absolutely delicious. A few people even requested a small glass of the Falernum just to sip by itself. The #9 is from Beach Bum Berry's book (linked above).
6 oz Wray & Nephew Overproof Rum
zest of 9 limes (with NO pith at all)
40 whole cloves
1.5 oz (by weight) peeled and Julianned fresh ginger
2 tbsp blanched, slivered almonds (dry roasted until golden brown)
14 oz 1:1 simple syrup
1/4 tsp almond extract (not immitation)
1.5 oz fresh lime juice, strained
Step 1: Combine the rum, lime zest, cloves, almonds and ginger in a sealed mason jar. Let it soak for 24 hours, shaking occasionally.
Step 2: Strain through strainer, then through cheese cloth, separating out all the liquids. Discard the solids.
Step 3: Add almond extract, simple syrup and lime juice. Shake well, and bottle. Will keep for a month or two, refrigerated.
NOTES: While the most drawn-out of the bunch, the Falernum was probably the most rewarding. Its unique flavor is unlike anything else we have around. I've seen they sell it pre-made, but I can't imagine it would be very good, based on the ingredients listed on the side.
Orgeat
Almost as complicated as the Falernum, Orgeat is another unique, delicious flavor for your cocktails. All the hard work is guaranteed to pay off!
17.5 oz. (by weight) blanched almonds, slivered
27 oz. cold tap water
1.5 lbs. table sugar
3.5 oz. brandy
2 tbsp. orange blossom water
2 tsp almond extract (not imitation)
Step 1: Put almonds in a large bowl with enough tap water to cover. Allow to sit for 2 hours.
Step 2: Strain almonds through cheese cloth, squeezing well to get out all the water. Set the liquid aside.
Step 3: Pulse almonds in a blender until coarsely chopped. Put the chopped almonds back into the liquid and allow to sit for another 2 hours.
Step 4: Strain almonds one more time, and discard solids. Heat the liquid on low heat with sugar until it begins to simmer.
Step 5: Remove from heat and allow to cool, and transfer to bottle. Add the brandy, almond extract and orange flower water and shake well. Will last a few weeks refrigerated.
NOTES: We've made this before, but to combine the Almond milk, we just shook it in a bottle rather than simmering on the stove. The stove method worked much better to keep the Orgeat from separating once it was bottled, but it will still separate to some degree. Make sure to shake it fairly regularly to keep everything well mixed and prevent your bottled from being clogged with almond matter.
Passion Fruit Syrup
Sweet and tart, we had a hard time finding something the passion fruit syrup didn't go with. You'll need frozen passion fruit pulp, and NOT passion fruit juice. Juice has already been messed with and will end up tasting bad.
Combine equal parts thawed passion fruit pulp and simple syrup (1:1 water sugar ratio) on the stove over medium/low heat until well mixed. Bottle with 1 oz neutral grain spirit/everclear if you want to extend shelf life. Keep refrigerated.
NOTES: This is a great, unique sweetener to have around for drinks. We had a bit of a hard time tracking down the passion fruit pulp (we ended up getting Goya brand and it worked great), but when we did find it, we discovered a whole treasure trove of flavors. Here, we came across it at Cousin's Supermarket store in North Philly. There were a whole slew of interesting fruits available in frozen pulp form that we're definitely going to have to experiment with. Mango, Papaya, Tamarind and Guava were all options.
Honey Syrup
This one is about as simple as it gets, so feel free to make as much or as little as you wish. Take 1 part boiling water and combine it with 1 part honey. Shake it up until everything is mixed well, and you're ready to go!
Here are a couple pictures of the party, and Once we make a couple of these again and shoot a couple pictures, we'll post more of the cocktails we came up with.
Thanks to everyone that came out and brought snacks to help test drinks, including but not limited to:
Brian from Bridges, Burgers & Beer
Shao from Fried Wontons For You
Christine from Cleaning Plates
Jackie from Running with Cupcakes