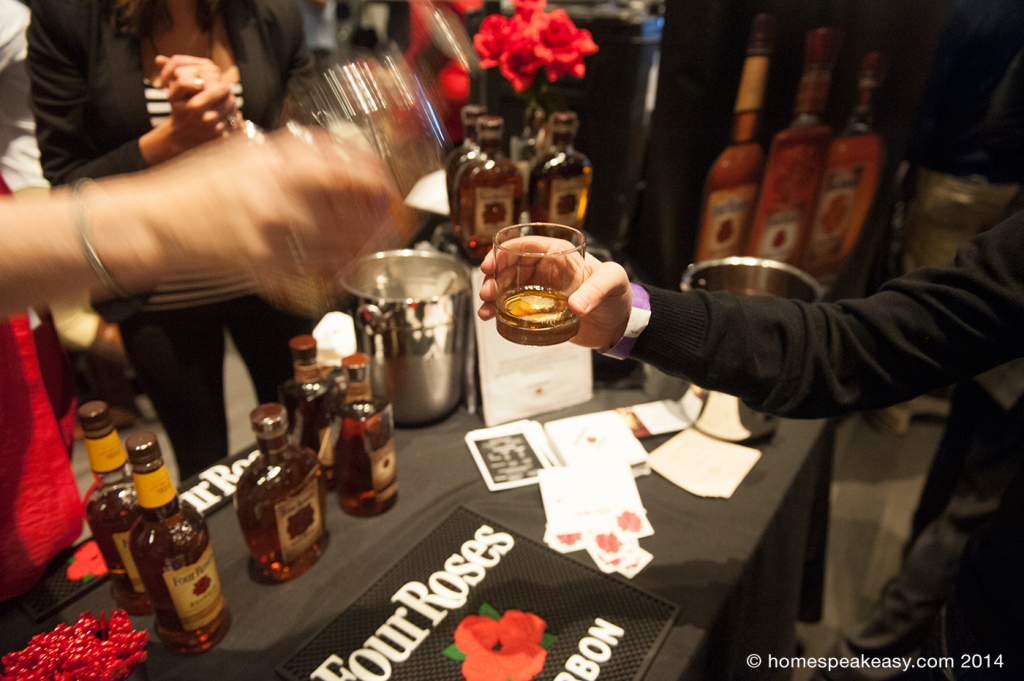 If I had to sum up last night's Philadelphia Magazine Whiskey Festival at Lincoln Financial Field, it was a well-attended trade show for assorted alcohol. There was a smattering of solid whiskeys, and a few people there genuinely interested in talking about what they made, but for the most part, there was one trade show model on roller skates trying to pull you into some kind of Smirnoff-powered 40-year-old's concept of a rave for every bottle of something rare that you could taste if you asked nicely.
That's not to say that it was all bad, or that I think Philadelphia Magazine did a bad job. All the best whiskeys available at PA Liquor Control Board (PLCB) were represented, but for those familiar with the PLCB, that alone wouldn't have filled a much smaller room. There was even a pop-up PLCB store right in the middle of the room, noteworthy only because they actually had Elmer T. Lee in stock. Everything else offered is generally available in any of their larger stores.
If the hobbling of the vendor variety weren't enough, one of the most disappointing things to me was the majority of the booth staff, who were clearly PR reps, most of which didn't seem to actually work for anyone in particular. They'd do the stock patter while pouring the sample, but once you showed interest in something they said, they would often simply turn away and start talking to someone else interested in hearing "aged in new white oak barrels" as though that were something special for a bourbon. Not all, mind you. There were a few stand-outs that were great to talk to: Four Roses, Tullamore Dew, Clyde May and Jefferson spring to mind. I'm sure there were other capable vendors as well, but I can't help but be disappointed when the person hocking the stuff couldn't give less of a shit about the product. And NONE of them had any water, which was pretty weird if you've ever been to a tasting.
The first hour of the VIP ticketing ($150), which included 1.5 hours of tastings before the General Admission ($95) masses arrived, was actually pretty pleasant. There was room to move around, people that seemed genuinely interested in what they were tasting, and some decent notable tastes to be had. The Ardbeg Supernova, as listed in the press release, but also a bottle at the end of a long line of Pappy 20, a bottle of Jefferson Ocean, a Tullamore sherry-finished 12 year called Phoenix, and most exciting for me, a bottle of 2013's bottling of the George T. Stagg Buffalo Trace Antique Collection, clocking in at a healthy 137-ish proof. These few were what saved the night for me from the weird sales pitches listing qualities that applied to basically anything in the building.
However, once 6:30 hit and the front doors swung open, the room was awash in packs of 5+ guys in ill-fitting suits high-fiving over glasses of Makers Mark and Jim Beam. The booth models changed gears from "milling around being friendly" to "sexy carnival barker," and everything just got louder.
My crowd-based crankiness aside, the whole night served to reinforce how disappointing the PA state liquor system truly is. In order to get half the things I tasted (nearly everything I liked), I would need to illegally purchase it out-of-state. If I'm VERY lucky, I can get it special ordered, which means I have to navigate the horrible PLCB website to purchase it, pay upwards of $14 shipping to have them send it to one of their own stores, and still have to pick it up in person from people that have no interest at all in the product they're selling. The whole system is such a giant goddamn bummer. That the only reasonable solution for anyone working with them to host a Whiskey Festival is to pack the room with Smirnoff, Orchata, and some neon orange something called OR-G kind of defeats the purpose, doesn't it? I don't know that I'd count Bailey's Chocolate Cream as a "fine spirit" as promised by the sub-title.
But at least on the card at the Buffalo Trace booth, they listed the SLO number for Pappy 20, so that should be pretty easy to get now, right?
Even with the Staggs and the Supernovas and the Oceans, I'm not sure I'd come back. Again, not due to anything Philadelphia Magazine did wrong, I just can't see the up-side to spending money on a whiskey festival in Pennsylvania while the PLCB is still sucking all the air out of the room and replacing it with OR-G liqueur. I'll just look for one in another state, and maybe get the chance to take home a bottle of something I like.
In closing: Fuck the PLCB.