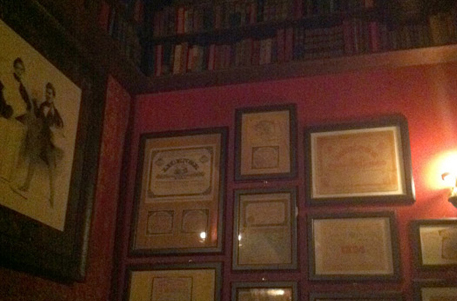 On Friday, Lêe was kind enough to invite Jen and me back to Hop Sing again, but this time instead of updates on the bar space, we were actually able try a few drinks. Naturally, we graciously accepted and headed over to see what everyone else was fawning over.
When we got there, it looked as deserted as any other day in the past year we've driven past, but after ringing the bell and being buzzed in, it was pretty evident a few things had changed. The whole place, as promised, was lit by candle, and for reasons we couldn't place, it smelled like a church. The tables were set in twos and fours, spread wide enough apart to pass between them without bumping anyone, and the chairs were all deep and comfortable. After a few minutes sitting at our table, that was the one thing I kept coming back to: it is really comfortable in here. This is a place I could relax and drink. Though the tables are on the larger side, it was interesting to both of us that we were able to have conversations at a normal speaking volume sitting back in our chairs, despite a mostly full dining room.
Once everyone was situated, the drinks started coming. First was a screwdriver, and as Foobooz noted earlier in the week, was exceptional for a screwdriver. By the time the second drink came out (delicious El Dorado 15 and grape juice), we started to notice a trend. Everything had a maximum of four ingredients, and seemed to be heavily based on fresh squeezed juice. By "fresh squeezed," we mean they squeezed it pretty much into the glass from the fruit. By the time the third round came to the table (anejo tequila with pineapple and muddled strawberry, if foggy memory serves), we realized that Hop Sing isn't quite what everyone seemed to be expecting. Even the last drink, which was something made of whiskey that Lêe refused to give me any information about, was delicious.
This isn't a cocktail bar in the same style as Franklin Mortgage and other similar craft cocktail places here and in other cities. These aren't the same type of drinks. While they both nod back to a different era in drinking, the two really have no more in common than a Tiki bar and a craft microbrew. Both clearly have a deep love for alcohol, but they go about expressing it differently.
I'm interested to check back in when Lêe is chugging along at full steam, but for now, he seems to have created a warm, inviting and comfortable place to enjoy his unique brand of cocktail.