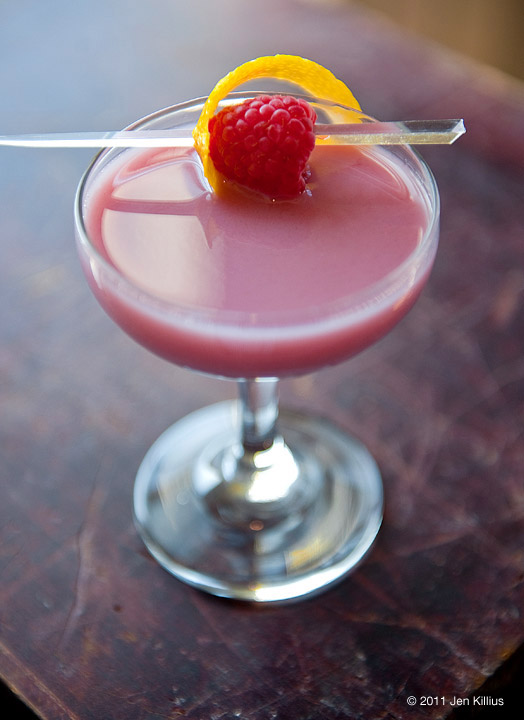 Right before I left Columbus, I picked up a few bottles of booze from some local distillers in town (Columbus has quite a growing microdistillery movement). One of the things I bought was a bottle of Tessora-Limone, a creamy lemon digestif made by a local couple from a 200 year old Italian family recipe.  For some reason this bottle got pushed to the back of our liquor shelves only to be re-discovered a few weeks ago. Since then, I've fallen in love with the sweet, refreshing liqueur and have been trying to think of delicious cocktails to put it in.
The Death of Sweet Mister
1.5 oz Tessora Limone
1 oz Raspberry syrup
0.5 oz Mount Gay rum
0.25 oz Frangelico
Combine ingredients and shake well with ice.  Pour into a coupe and garnish with a lemon peel and fresh raspberry.
NOTES: My initial reaction was HOLY CRAP THIS TASTES LIKE A CHOCOLATE RASPBERRY SUNDAE. Like…dangerously so. Surprisingly though, it wasn't too cloying. This would be an excellent dessert drink as I'm not sure I could have more than one at a time due to the sweetness.  I think in the future I would either increase the Frangelico to 0.5oz or the rum to 1 oz to make it both a more full cocktail and slightly boozier.
Raspberry Syrup
Crush 1 pint of strawberries in a pan with a wooden spoon until all the berries are broken up. Add 1 cup of water and slowly bring to a boil, occasionally mashing the berries. Add one cup of sugar and simmer for 15-20 minutes. Strain upwards of 3 times and bottle. Add 1 oz of high proof vodka or neutral spirits to extend the syrup's life.