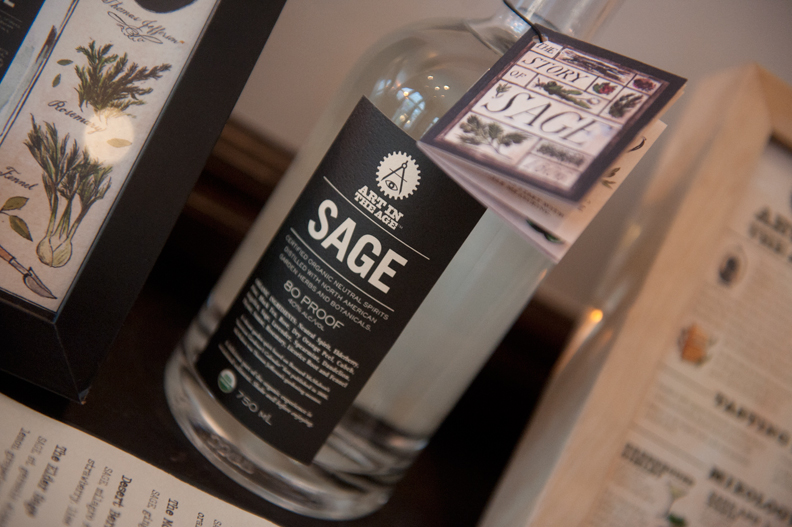 This past Wednesday, Art in the Age was kind enough to invite us back to another of their launch parties, this time for for their newest liqueur SAGE. The whole thing took place in the cocktail lounge at Vedge, which is already one of my favorite places to drink in the city. The extremely well-balanced cocktails were created by Vedge's bar manager Daniel Miller (running one of the most underrated bar programs in Philadelphia at the moment, in my humble opinion), and for the most part featured very little liquor other than SAGE in order to showcase the new spirit.
Sage itself is a pretty neat liquor when you get down to it. Very close to a gin, but without the juniper, and the herb-driven spiciness that the sage provides. The flavor isn't as strong or defined as AITA's other three liqueurs (ROOT, SNAP and RHUBY), but in this case, I think that works to SAGE's benefit. While I do love ROOT, the opportunity to drink it or mix with it is a little rare. It has the same problem that I assume most bold liqueurs have in that it has a clearly defined role in drink mixing, and can't venture too far out of that niche. SAGE, on the other hand, is mild enough that it could easily sub for gin in any number of cocktails – the type of drink foundation that I think AITA has been missing in their past ventures.
All of this is great news for Jen, who loves both sage (the herb) and gin more than I do, but I definitely enjoyed the SAGE cocktails and look forward to picking up as bottle as soon as the PLCB gets it together and starts stocking the stuff. I'd recommend the same for anyone building a bar and looking for something unique, yet versatile.
SAGE should be on the shelves in PA any day now for $32.99. Thanks to Art in the Age for including us at another event and Vedge for the great cocktails and snacks. Seriously, if you haven't gone to Vedge yet, you should really get on that.