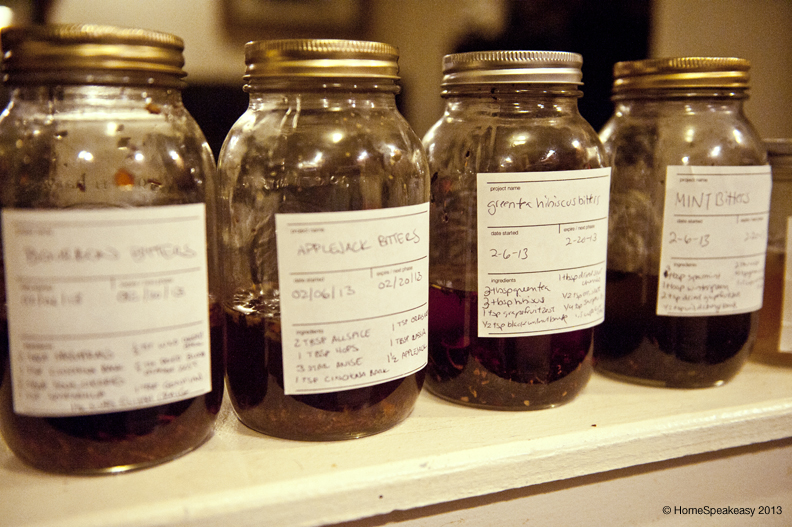 Since the last batch of bitters went over so well we decided to take another shot at it, this time with a little more risk in the flavors. Jen and I each made two jars for phase 1, and in 2-3 weeks we'll separate and move on to phase 2.
If anyone else is interested in trying this at home, I'd definitely encourage it. As we learned from helpful comments on past posts, Penn Herb Co. (if you're in Philadelphia) is a great source to find just about all those ingredients that you've never heard of. The dried fruit peels & zests are easy to make on your own by putting them on a cookie sheet and setting the oven as low as it'll go with the door propped open for a few hours. If anyone does make their own, we'd love to hear what went into yours and how they turned out. We're still just taking shots in the dark. Delicious shots, but shots in the dark all the same.
For now, recipes for what we've got steeping after the break!
Jen #1: Green Tea Hibiscus Biters
2 tbsp dried green tea
2 tbsp dried hibiscus
1 tsp dried grapefruit zest
0.5 tsp black walnut bark
1 tsp dried sour cherries
0.5 tsp orris root
0.25 tsp sarsaparilla
1.5 cups Everclear
Jen #2: Mint Bitters
2 tbsp spearmint
1 tbsp wintergreen
2 tsp dried grapefruit zest
0.5 tsp wild cherry bark
2 star anise pods
0.5 tsp gentian root
1.5 Wray & Nephew overproof rum
Jon #1: Cherry Cola Bitters
2 tbsp sassafras
1 tsp sarsaparilla
2 tbsp dried sour cherries
0.5 tsp wild cherry bark
0.5 tsp cinchona bark
0.25 dried blood orange zest
1 tbsp gentian root
1 vanilla pod, split down the center
1.5 cups Elijah Craig 94 proof bourbon
Jon #2: Allspice Bitters
2 tbsp whole allspice berries
1 tbsp dried hops
3 star anise pods
1 tsp cinchona bark
1 tsp orris root
1 tbsp cassia bark
1.5 cups Applejack
The applejack isn't over-proof, so I'm not sure how this one is going to come out, but I have high hopes for the rest. As the bitters progress, we'll post more updates! Look for the next in about 3 weeks.