Tuesday night, Jon and I were lucky enough to be invited to the opening party for Lemon Hill, the much-anticipated bar and restaurant in Fairmount. The eatery, which has been open since late December, is a collaboration between Chef Mitch Prensky of Supper, and The Franklin Mortgage & Investment Co.'s managing partner Mike Welsh. Similar to his other restaurant, Chef Prensky will focus on local and sustainable American fare with a rotating seasonal menu. The centerpiece of the Lemon Hill kitchen is a large brick oven, which will drive a large part of the menu offerings. For the drinks, Lemon Hill presents a small, but balanced list of wines and beers, and features custom cocktails created by Al Sotack from The Franklin Mortgage & Investment Co. that are served along with some sturdy classics.
Lemon Hill is located on a quiet corner in Fairmount with a faint, warm glow of lights radiating from the windows. When we walked in, we were greeted with a low buzz of excited people and my favorite noise: the clinking of ice being shaken. After being introduced to Chef Prensky and chatting with a few other people, we settled in at the bar, where we're most comfortable. For the event, Lemon Hill offered a selection of drinks and snacks from their full menu. That evening's drink list included a Clover Club, a traditional daiquiri, an old-fashioned and Sotack's own creation, the Blues Explosion.
Right off the bat I ordered the Clover Club, a drink that I'm especially fond of since writing about it for Drink Philly and Jon tried the Blues Explosion. The Clover Club was very refreshing, mixing up Plymouth Gin, dry vermouth, lemon, house-made raspberry syrup and egg white. Normally I follow the Savoy recipe for Clover Clubs, which does not include Vermouth, but I really enjoyed this variation; it made the drink a little less sweet and much crisper. Jon was an instant fan of the Blues Explosion (Tennessee Whiskey, Grapefruit, Maple, Angostura) and I got major drink envy after tasting it. I tend to like most drinks sour, and the grapefruit really gave this cocktail a nice tart zing. Also, according to sources, Sotack's recipe uses 1/4 oz of Angostura, which is impressive and ballsy.
As we sipped our drinks, we enjoyed the dim and cozy ambiance of Lemon Hill. The décor is modern but comfortable. Sandvold Blanda, who designed the interior, did a nice job giving the place a relaxed feel without a lot of stuffy or fussy touches. The restaurant itself is divided into 2 sides: one part houses the bar and a few tall tables where I imagine a couple could enjoy a few intimate drinks at happy hour, and another side consisting of tables and booths for diners. From here you can see the partially open kitchen where the huge brick oven is showcased.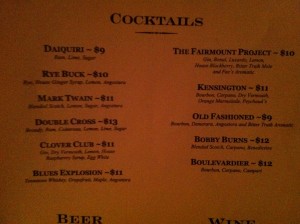 After poking around the space, we ordered more drinks (me: the daiquiri – rum, lime, sugar, him: the old fashioned – Bourbon, demerara, Anogostura and Bitter Truth aromatic) and servers began circulating with trays of food. Jon tried some of everything, his favorites being the BBQ chicken flatbreads and the dirty rice fritters with crawfish mayo. We ran into a few people we knew, and thanks to Danya from The Drink Nation/Drink Philly, we met a few more awesome booze and food enthusiasts. We ended up trying all the drinks on the menu, several times over (whoops), and hands down our favorite drink was the Blues Explosion, for its exceptional drinkability and deliciousness. We also perused the full drink list and there were several cocktails that caught our eye.  I'm extremely curious about the Double Cross (brandy, rum, Cointreau, lemon, lime, sugar) because it combines almost all of my favorite things.  I wonder if the overall flavor would be too sweet or if the sour from the lemon and lime would balance it well. The Fairmount Project (gin, Bonal, Luxardo, lemon, house blackberry syrup, Bitter Truth Mole and Fee's Aromatic) is also on my list of things to try. A blurry photo of the entire drink menu is above.
Overall, Lemon Hill has the feel of a warm and inviting neighborhood joint: casual and comfortable with great food. It's not a destination bar/restaurant like Supper or The Franklin, but rather, a very solid and welcome addition to the Fairmount neighborhood. We had such a good time that we're already planning to come back this weekend to try more drinks and the full menu. Check out some of the photos of the restaurant below and if you've already been, let us know what you liked!
Lemon Hill is located at 725 North 25th Street (25th and Aspen) in the Fairmount section of Philadelphia. http://www.lemonhillphilly.com/