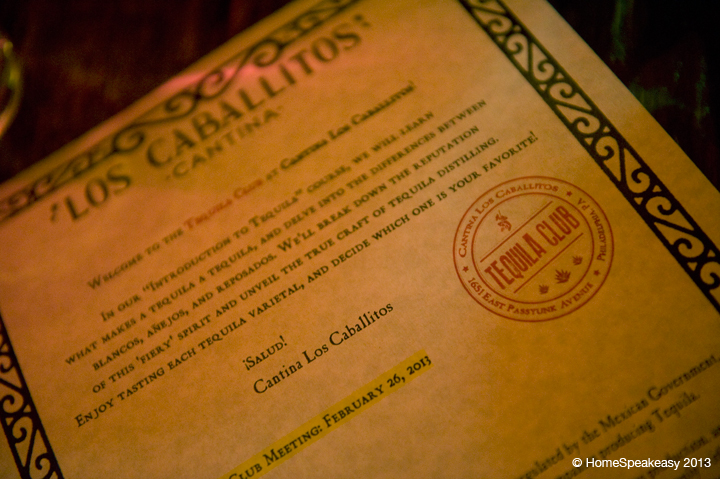 The folks at Cantina Los Caballitos were kind enough to invite us along for their first official Tequila Club, an instructional series that educates about tequila, while showing off the kind of food pairings that might not come to mind when you think about when and where to enjoy the oft-misunderstood Mexican spirit.
The club opened with some basic facts about tequila, for example:
True tequila comes with some strict requirements, It must be made with 100% blue agave, must be produced in Mexico. A "mixto" is a tequila that only requires 49% blue agave, and is inferior in flavor and production.
There are 4 types of tequila: blanco (unaged), reposado (rested) is aged 2 months to 1 year in oak barrels, anejo (aged) is aged 1 to 3 years in oak barrels, and extra anejo (extra aged) is matured for a minimum of 3 years.
The traditional drinking glass for blanco and reposado tequilas is, appropriately, called a caballito, or "little horse." A caballito is a tall, narrow shot glass. We are going to need to get some of these.
Highlands agave is sweeter in aroma and taste, while lowlands agave is smaller, more spicy and complex.
All tequilas are mezcal, but not all mezcal is tequila. Unlike tequila, mezcal can be made with any type of agave. The agave is roasted over stones and then buried, where it is allowed to continue to roast underground, giving it a distinct, smokey flavor.
Then the fun started. Four rounds of different tequila paired with four different courses. Details of the courses after the break!